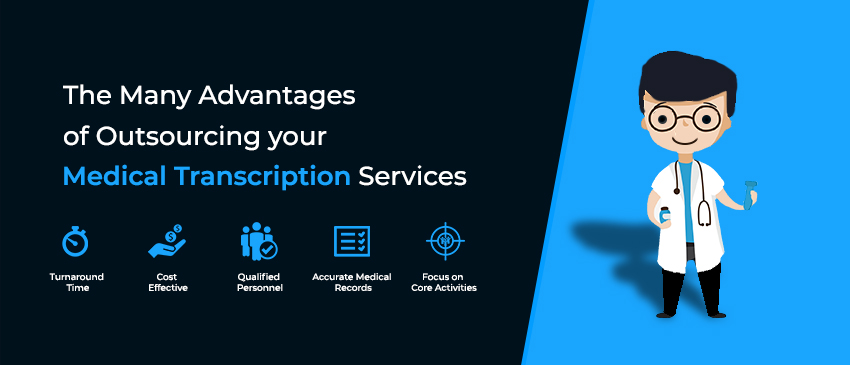 Outsourcing medical transcription services, in the recent years, has become something of a trend in the healthcare industry, its major beneficiaries being health clinics, hospitals, physicians, healthcare providers and out-patient surgical centers. Now, it's a medical field that requires only qualified individuals with a special skill-set which healthcare providers can rely on to take their transcription process such as accurate documentation and record keeping to the next level.
Physicians and medical faculties, up until recently, had to make do with the in-house process for note dictation and patient accounting which, if nothing else, took away the employees' valuable time from the day-to-day operations of running a successful practice. In the modern age, the medical industry is one of the few that's constantly on the rise, due to a simple fact that more and more people are becoming health conscious these days, another reason why service providers offering medical transcription services are in high demand.
We all know how important it is for doctors to provide accurate notes when it comes to medical reports, surgeries and treatments concerning patients under care. That's why, nowadays, healthcare professionals are relying more on reputed outsourcing companies for medical transcription as it greatly eliminates data errors along with helping in several other ways. Let's find out:
Turnaround Time
Outsourcing keeps a check on your work so that it falls within a pre-arranged upon time frame regardless of whether you have an excess of workload, your employees are off sick or you are simply a high-volume clinic. Not only this, your transcribed documents will most probably be available within the next 24 hours. This help doctors easily review and edit documents along with sending out referral letters in a timely fashion.
Cost-Effective
With outsourcing, you pay only for the results as the industry standard is to only charge you by the line only (which is 65 characters). You can check the number of lines you should be paying for by dividing the Word Count by 65. These outsourcing companies not only eliminate your need for administrative, HR and training costs but also help you save more on equipment and maintenance outlays.
Qualified Personnel
Another major benefit of medical transcription outsourcing is that you will never have to hire again, especially for offices with multiple specialities where finding a medical transcriptionist who knows the ins and out of those particular specialities and the vocabulary could be hard if not impossible. Outsourcing ensures that the different dictations are transcribed by professionals specialized in that area.
Accurate Medical Records
If you have managed your transcription in-house in the past, you know how all the quality control and accuracy standards fall upon your practice only. Many such practices are known to suffer from inadequate control measures and lack recourse for poor management. Outsourcing allows the strict accuracy protocols to be tracked and managed by the service providers themselves who carefully screen employees to ensure work accuracy.
Focus on Core Activities
The ultimate benefit of outsourcing is its ability to free up your sources to better concentrate on the core activities of your business such as patient care or to invest in its expansion. Smaller clinics are particularly advantageous as they mostly work to tighter margins and strict overhead constraints. So, whether your practice is small or large, outsourcing makes your team more efficient and drives better resource management across the practice.
End Thoughts:
Within no time, medical transcription outsourcing has become a huge resource, money and time saver for healthcare professionals and practices. The simple process which involves dictating through voice and getting it back in text format, allows one to reap all the benefits of text-based documentation without any of the added efforts.